Eco Council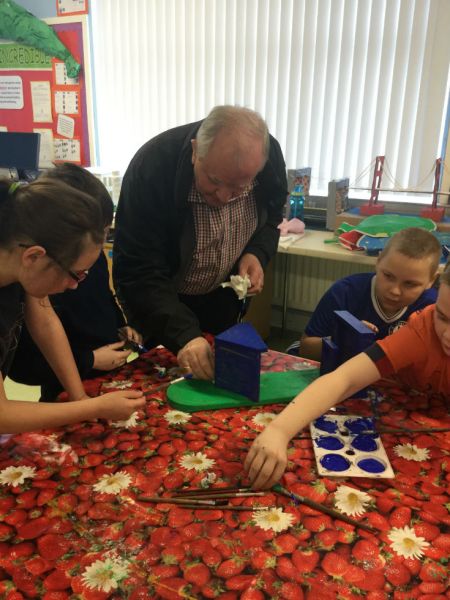 School Eco Council
St. Francis of Assisi PS is proud to be an eco-friendly school both inside our classrooms and outside. Our Eco and School Council meet regularly to plan activities and undertake projects to educate the children here at school on how to make better decisions for the environment. We regularly review our Action Plan to agree new strategies and targets to make our school more ecofriendly.
We would ask for your support in helping us with new initiatives. The Eco Schools Programme covers nine areas: School Grounds, Biodiversity, Global Citizenship, Energy, Water, Waste, Litter, Transport and Healthy Living.
Litter
Dealing with pollution can be a difficult issue. We all need to take responsibility for keeping our environment clean. Each year we participate in the 'Big Clean' community campaign. We work with the Armagh Council to help collect rubbish on our streets and walk ways. Our town is beautiful and we want to keep it that way. Remember don't be a litter bug, put your rubbish in the bin!


School Grounds

We are currently working hard to develop our outdoor learning environment. We want to create colourful, exciting and interesting areas that provide habitats for wildlife and where we can grow our own fruit and vegetables. This year the Men's Shed are helping us to create an outdoor mud kitchen for Foundation Stage and Key Stage 1 to use during outdoor play so that they can have some messy fun!
Biodiversity
As a school we learn about the importance of taking care of living things. The Eco and School Council are working alongside the Men's Shed to add bird boxes, feeders, planters and a mini-beast hotel to our school garden.
Waste
Classes must use the recycling bins correctly. Each room is serviced by a general waste bin, paper recycling bin and a scrap paper tray for reusable pages. Eamonn our caretaker, who is an active member of our Eco Council, ensures that paper and plastic are being correctly recycled.
The Eco and School Council have been observing the waste generated at lunchtimes. We want everyone to aim for a package free lunch box.
Energy
Classrooms are evaluated each day according to our Eco Code. The Eco Council take responsibility for checking that energy is not being wasted. Using our agreed checklist our 'Eco Monitors' check:
Thermometers are being used correctly and do not go above 20degrees
Doors and windows are closed when heating is on
Electrical points are switched off when electronics are not use.
Lights are switched off when leaving the room.
Transport
Well done to those who are choosing to walk to school or share a lift. We appreciate your efforts to cut down carbon emissions and we hope to see more people join us our 'Walk to School' campaign later in the school year.